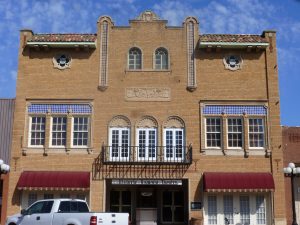 My first impression upon getting a request from the Frederick Arts and Humanities Council for a "dinner in the street" laser show was excitement – there were buildings everywhere!  Maybe some of them would be good candidates for laser mapping.
When I visited Frederick to plan the show, it became apparent that the charming Ramona Theatre was the star of the show, and in fact the dinner was to raise funds for the theater and its associated activities.  I proposed that after dinner, we do a 6 minute original laser mapping show on the facade of the building.  And then, to further feature the theater, we would go inside and see a special laser show in the theater itself.
The event took place on September 22, 2017.  The evening worked very well!  Here is a panorama of the dinner setup (if you look closely at the left side of the picture you will notice Miss Oklahoma in her tiara, the beautiful Triana Browne, who sang for us both before dinner and inside the theater before the laser show):
When the dinner was over, the lights went out and we were into my composition "Powerful Flight" with perfectly synchronized and laser mapped graphics on the Ramona Theatre.
Here is a video of the laser mapping on the Ramona Theatre: