Want a quote for a laser show at your event?  Contact us at 512-392-4600 or click here for our Book A Show form: Book A Show
LASER SPECTACLES, INC. is a Texas Laser Light entertainment production company specializing in producing spectacular laser shows, and designing and installing laser show related projects. Sound and light are merged to produce stunning effects.
Laser Spectacles, Inc. focuses on producing creative and unusual laser shows for a variety of markets, including festivals, fairs, meetings, art events, parties, sporting events – anywhere large groups of people gather to celebrate!
Welcome to our website! We have posted general information about laser shows under "Resources", and details of our recent laser shows under the post categories at right, and in our Galleries.
Recent Work:

We've been working on finding new approaches to projecting lasers upon buildings , here are a few pictures of our laser mapping tests:
ILDA Accredited Professional Lasershow Company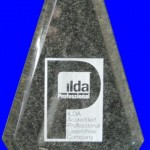 Laser Spectacles is an ILDA Accredited Professional Lasershow Company,  as of Sept. 9, 2010 at the annual ILDA Conference.  We were one of the first two companies to receive this designation under the brand new IAPLC program that year.
Laser Spectacles is a founding member of ILDA, and proud to display this award!  ILDA was founded in 1987 to bring together professionals in the laser light show field.
Here is the video from the award winning Sun City Music Festival laser show performance:
Upcoming Laser Shows:
Feb. 22-23, 2019: Mardi Gras! Galveston, Galveston, TX – Electric Mardi Gras Stage
March 1-2, 2019: Mardi Gras! Galveston, Galveston, TX – Electric Mardi Gras Stage
April 6, 2019: Edinburg UFO Conference and Festival, Edinburg, TX