Want to send us an email? Want a quote for a laser show at your event?  Email us at:  laserinfo@laserspectacles.com
LASER SPECTACLES, INC. is a Texas Laser Light entertainment production company specializing in producing laser shows, and designing and installing laser show related projects. Sound and light are merged to produce stunning effects.
Laser Spectacles, Inc. focuses on producing creative and unusual laser shows for a variety of markets, including festivals, fairs, meetings, art events, parties, sporting events - anywhere large groups of people gather to celebrate!
Welcome to our website! We have posted general information about laser shows under "Resources", and details of our recent shows under the post categories at right, and in our Galleries.
TFEA "Vendor of the Year" Award
Laser Spectacles, Inc. received a surprise award at the Texas Festivals and Events Association (TFEA) Conference in Houston on July 24, 2015 - "Vendor of the Year"!  Laser Spectacles received the award in recognition of its outstanding leadership, service, and dedication to the organization and its members.
"TFEA really pulled a fast one on me," says Tim Walsh, president of Laser Spectacles.  "We were all sitting down to lunch, and the speaker began talking about the upcoming award for Vendor of the Year, and how great the recipient was.  I thought to myself, maybe someday I can be that good.... next thing you know, our logo is flashing up on the screen, and the recipient is me!  They even prepared a slide show with images from some of our best laser shows."
Walsh and Laser Spectacles have performed several showcase laser light shows for TFEA over the years since they joined in 2001, and number many TFEA members among their clients.
World Champion Laser Jockey

Laser Spectacles President Tim Walsh won the "Laser Jockey Competition" for the second year in a row at the International Laser Display Association (ILDA) Conference in Las Vegas, Nevada on Nov. 18, 2014.  The competition was a live laser performance at the ILDA "LaseOff", held at the Riviera Hotel and Casino, and voted upon by ILDA members attending the event.
Career Achievement Award to Tim Walsh
At the conference in Las Vegas, Tim also received ILDA's highest award - the Career Achievement Award.  This Award is given yearly to those demonstrating dedication to the industry and great laser shows!  Tim is one of the founding members of ILDA, and has served as Awards Committee Chairman for many years, as well as ILDA President from 2007 - 2011.
Second Place Nightclub/Disco/Music Festival Show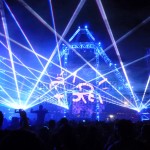 For our performance at the Sun City Music Festival in El Paso in August 2013, Laser Spectacles received Second Place in ILDA's Nighclub/Disco/Festival category.  This annual EDM festival features the top names in electronic dance music, and we control the lasers live and in the moment using our custom program for the Lasergraph DSP computer.  The video of the show that won this award is posted below.
ILDA Accredited Professional Lasershow Company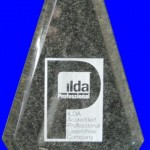 Laser Spectacles is an ILDA Accredited Professional Lasershow Company,  as of Sept. 9, 2010 at the annual ILDA Conference.  We are one of the first two companies to receive this under the brand new IAPLC program.
Laser Spectacles is a founding member of ILDA, and proud to display this award!
Here is the video from the award winning Sun City Music Festival performance in August, 2013: