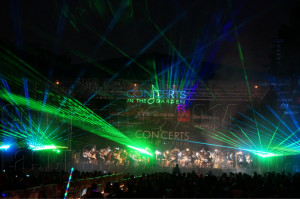 Once again Laser Spectacles made the trip north up I35 highway to set up in the beautiful Forth Worth Botanic Garden, one of the finest settings for a symphony laser show anywhere.  We had a fine night for the performance, with a dark sky and just enough wind to keep the haze moving along so that the laser beams looked fabulous.
After intermission, as the sun went down, we turned on the lasers and the haze machines and performed along with the live Fort Worth Symphony playing Also Sprach Zarathustra, "Mars" from the Planets, "Star Trek into the Darkness", and many selections from the Star Wars Suite.  We had a great time and the audience loved it.
Many thanks to Chris Goddard for bringing his camera and taking these pictures during the laser show!  Click on any picture to see it larger….