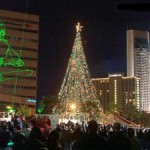 When we look at a site for the first time, we are always keeping an eye open for what buildings are in the area.
Buildings can be the most stable and reliable laser screens, and often have a historical connection with the community that adds an extra dimension to the laser show. Plus, lasers can project very, very large, and we are looking for something to showcase that impressive ability – often the right building will add a substantial WOW factor to the laser show. And that is something that everyone is looking for!
Laser Spectacles will work in conjunction with Stage Directions from Houston to produce a show that is more than lasers.
The City of McAllen, Texas, down in the Rio Grande Valley (it's the very southern tip of the state!) has a tradition of dropping a ball during their big party on New Year's Eve.  The entire entertainment district around Beaumont Street and 17th Street is closed off, and up to 30,000 revelers attend! Laser Spectacles […]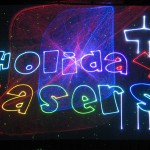 The "Holiday Laser Show" in San Antonio is produced by Urban-15, for the benefit of thousands of schoolchildren who are bused in to see the show. Laser Spectacles was back at Urban-15 December 7 – 11, 2010, performing spectacular holiday shows for the children. Public shows were at 7 PM on Dec. 9, 10, and […]