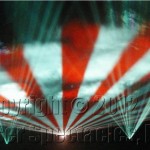 Patriotic laser shows are a big part of Laser Spectacles production schedule. National holidays such as Independence Day and Memorial Day bring together large groups of people to celebrate and remember our nation's history.
Laser Spectacles will work in conjunction with Stage Directions from Houston to produce a show that is more than lasers.
Laser Spectacles performed a great outdoor patriotic laser show in East Texas.