Laser Spectacles, Inc.  Testimonials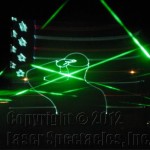 Tim, great show for the Veterans Day Program. The crowd was very pleased with the presentation.   Also your staff was very smooth to work with.
Patrick R. McCage , Director of Parks and Recreation,  ?City of Gainesville, TX
Tim, the Laser Show was far beyond my expectation!!  Thank you for working with the Chamber to produce a very personal Columbus show.  James was quite accommodating and easy to work with.  We look forward to future engagements.  Happy New Year.
Nancy Stiles, Columbus Chamber of Commerce, Columbus, TX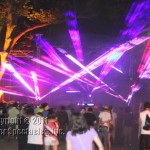 Thank you George and Tim……wow the show was a spectacular!  Now I
know why your company has the name Laser Spectacles.  Tim you are a
creative genius, and George thanks for pulling it all together for us.
To see the crowd in awe was truly amazing.
Thank you for helping to make the 2011 Light the Night Walk a million
dollar fundraiser for the Leukemia and Lymphoma Society.
Lisa M. Byington, CMP, Planning and Design, San Antonio, TX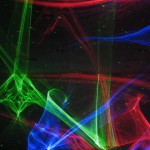 On behalf of the LBJ Library and Museum, I would like to thank you for your invaluable contribution to our recent exhibition, "To the Moon:  The American Space Program in the 1960s" (August 2008 – July 2009).
The spectacular light how you produced as the "grand finale" to the exhibit was outstanding in both its creative presentation and its ability to capture the history and the spirit of America's quiest to land o the moon. Visitors were awed by the display!
Sandor B. Cohen, Curator, LBJ Library and Museum, Austin, Texas
Thank you so much for the wonderful laser show at "Party in the Falls" on New Year's Eve in Wichita Falls, Texas.  The show was a highlight of the evening – I was enthralled and amazed at the graphics and music.  You had a very long, hard day and were willing to speak to the media and spend the time necessary to put on a great show!
Judy Pipes, Wichita Falls Symphony League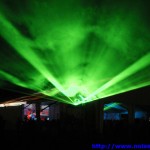 What more can I say than that your laser show was absolutely spectacular.  It blew my expectations completely away and made that night one that nobody will ever forget.  I know for a fact that all the kids loved every single minute of it, but you could probably tell that by their cries of joy and their dancing around in jubilation.
Once again, thanks for everything.
Michael Hopkins, King, Maifest Celebration, Brenham, Texas
Thank you so much for providing us with such wonderful service at the event in which Tommy Block, our site leader gave the commencement address at Brazosport College.  we contacted you with virtually no time to spare and you came through with flying colors!
Your coordination was flawless and you definitely left us with the feeling during the planning that you could handle this with no problem whatsoever.  Since we had not worked with you before and this was our first event of this type to arrange that confidence gave us a much needed feeling of security.
Thank you again for your impeccable attention to all the details that made it exactly the event that Tommy wanted it to be.
Mike Gregg & Lee Anderson, The Dow Chemical Company, Brazosport, Texas
Please let me tell you what a pleasure it was to have had the opportunity to work with you on The Special Event Gala.  You and your group were easy to work with and very flexible in working around all of the other activities that were going on at the same time for this event.
One of the three biggest highlights of the evening was definitely the laser light show.  I can not tell you how many people have asked me who did the laser show …
Good luck in your future endeavors.  All of you certainly helped to make the evening a night to remember!
Terry Shields, CSEP, The Special Event, Gala Co-Chair, Dallas, Texas
Absolute Coordination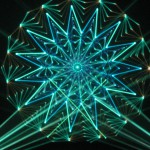 "….it was at this time that laserist Tim Walsh got to show the audience
exactly what is meant by synaesthesia. Equipped with a desktop computer
and a musical keyboard, Walsh put together a soundscape best described
as a blend between trance and IDM. The uniqueness of the presentation,
however, was the absolute coordination between the music emanating from
the speakers and the awe-inspiring laser patterns darting overhead.
Varying from exploding geometric shapes to gyrating disco dancers,
Walsh's production was a display neither for the epileptic nor the
faint of heart."
— New Orleans Electronica Digest by JetaTek
Symphony Laser Show Best Yet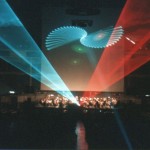 "Some of his effects are so visually stunning, they are almost hypnotic. They
are kinetic art in its purest form… literally mesmerized the audience
with the beautiful gradually changing shapes and colors he created…
will easily set a new standard for symphonic laser shows."
— San Antonio Express-News
Tim Walsh's Laser Shows Engulf Audience in Images
"Walsh has extended the medium far beyond gimmickry into a genuine art form of
startling expressive breadth… the meshing of music and image is
well-nigh perfect, and the drop-dead virtuosity constantly astonishes."
— San Antonio Star
"Tim Walsh is a Genius"
— Austin Chronicle
Laser Magic Casts Its Spell
"If you have never seen a laser show, you are in for a different kind of
experience… A little light plus a little music makes a lotta
spectacle"
— Houston Post
Tripping the Light Fantastic
"Suddenly fingers of blue-green light bounce crazily around the room while more
light forms images on the screen. The audience registers its approval
by screaming at the top of its collective lungs. Don't panic, it's not
Armageddon, it's Tim Walsh's Original Laser Spectacular…"
— San Antonio Express News
Show Combines Music & Lasers for Magic
"…the images and sounds seem most complimentary… all in all, a great deal
of fun."
— Houston Chronicle
Beaming Up a Symphony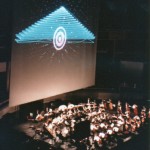 "Several pioneering visual artists are lighting up the sky at orchestras around
the country. Using lasers, large-screen projections, and assorted
lighting techniques, they are setting the stage for the newest
performing art form: visual music. Tim Walsh, of the Texas-based Laser
Spectacles, Inc., first began dabbling with lasers when he was a music
composition major at North Texas State University… "I think of myself
as an artist," he says. "I would be doing this no matter what… it's
my life's work."
— Symphony Magazine