Intriguing architecture, perfect October weather, and Beatles music – this was an evening to remember!
When the North Richland Hills Parks and Recreation Department contacted me about doing a show here, I did not see an opportunity to use the building itself as a projection screen.  I began making plans to set up a normal projection screen hung from the building itself, or from a boom lift.
Once arriving for the site check (months ahead of the show date) I began applying my imagination to this wonderful and unusual building, and we decided to go for a "laser mapping" show with no additional screens.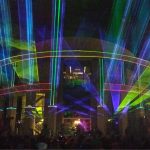 The building itself gave many opportunities to trace the fundamental architecture and make fantastic shapes from that alone.  I found opportunities to run text messages along the top and middle horizontal structures, and also made several "mini-screens" from the spaces in between the structural components of the building.  Sarah Green of the NRH staff is an accomplished artist, and produced several sketches of Beatles' faces that I was able to use in the show.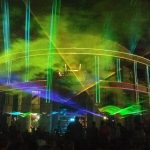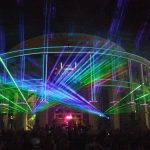 This was a live laser production – nothing was programmed before to the music other than preparing the laser mapping and the special images and text for this show.  Music was live also – provided by The Eggmen from Austin, TX.
Here is a short video of some of my favorite parts of this show: