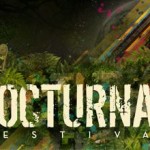 Laser Spectacles took to the back woods of Apache Pass on May 29 and 30, 2011, to provide laser shows for the second Texas Nocturnal Festival presented by Insomniac Events. We had lasers at the Upside Down Room (the stage set up amongst the trees), and in the Sunken Garden (the stage across the river). We also had a big green YAG laser set up doing the Wall of Mirrors, and a big YAG laser set up shooting over the Arc Attack show.  All photos on this page were taken by Todd Rogers of Beamin Lasers!

The lasers in the Sunken Garden always look good. We set up two green lasers over a big bowl of an amphitheater, next to the long pedestrian suspension bridge.  This was a great area for people to sit on the lawn or on the big rocks along the back under the trees, and just chill out, relax, and watch the laser beams play with the music.
In the Upside Down Room, we had three RGB lasers shooting out over the audience and into the trees. In the darkness they looked fantastic!  There were a lot of really bright lights on this stage, but the OnStage Lighting designers were very cool about blending their lights with the lasers for some fantastic looks.
With our fabulous wireless ethernet control set up, we could sit out in the trees behind the audience, and creat the show that we always like to see ourselves!
Onward to Arc Attack – one of our favorite bands from Austin, TX. They specialize in creating music using giant Tesla Coils. It turned out that one of the places we carefully selected to put a big green laser at was right next to the Arc Attack performance space! So, we got to spend some time together and appreciate one another's work. One very unusual thing they are doing is inviting audience members to stand/dance inside a metal cage, which then attracts the arcs from the giant coils.
Finally, we had the Wall of Mirrors set up over towards the side of the entrance…. another good spot to chill.