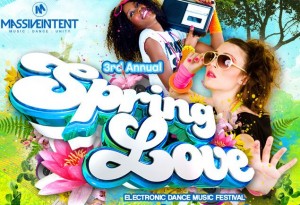 It's time for Spring Love! It's to be held again this year on April 23 at the Travis County Expo Center in Austin, TX, with multiple stages, performers, and all of the good vibes noted in last year's massive.
Armand Van Hammer is headlining, and I see that my friends Micro, David Christopher, and Danny the Wildchild will be spinning, and I'm definitely looking forward to Matt Darey's set. It's going to be a night to remember!
Here's what last year's Spring Love was like: April 24, 2010
Spring Love is the annual bacchanale put on by Massive Intent.  Although held at the Travis county Expo Center, the event was inside a fenced off area on a grassy part of the grounds, within easy distance of the parking.  Inside the fence were 3 huge white tents, vendors, and a special chill temple dome area created by System 7.
We were in Arena 1, the Secret Garden.  It was wall to wall sound system from BassMax, an LED video screen fronting the DJ booth, and lights galore from Gemini.
We had two 3W microYAG projectors and one 2.1W RGB laser projector screaming all night long.  The reds and purples were particularly vibrant tonight.
The best thing about Spring Love was the vibe – thousands of people packed into a relatively small space, all there to enjoy a night of their favorite music and DJ's.  The girls were beautiful, the weather was perfectly cool, and everyone had a great time until dawn.
My favorite spot when I was able to wander around the grounds was the chill downtempo area in the far corner. There were three domes people could hang out in, and very cool music with projections and little lasers all around the area. See the photo of Kathy Russell above while she was spinning in this spot.
Click here to see some special pictures from backstage!